Living Well – Endless Pools vs In-Ground Pools
Vol. 11, Wed., January 8, 2020
Bringing you the latest happenings in the aquatic fitness world, tips & tricks, and the best ways to live well!
Endless Pools vs In-Ground Pools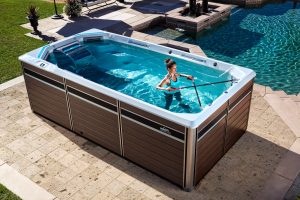 Being that we are making our way into the heart of our winter season in New Jersey, our focus this month is comparing Endless Pools Fitness Systems (EP) with standard inground pools. For anyone that is reading this and has an inground pool, I think it is safe to say that the pool is shut down for the winter. Most of our Endless Pools Fitness System owners, I am hopping it is safe to say, are still using their pools every day – year-round. We are going to look at a couple differences between the two types pools. 
We also want it to be clear that we are saying that both have pros and cons, but in our opinion, an Endless Pool is a sound investment for year-round wellness & fun.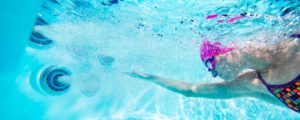 Let's look at three different factors that separate the two types of pools.
Versatility – This is the strongest factor that separates the two types of pools apart.
Installation – The process for building a pool in your backyard is vastly different installation process for an Endless Pools.
Costs – The last subject we will touch on is the energy efficiency and average costs for both the fitness system and an in-ground pool.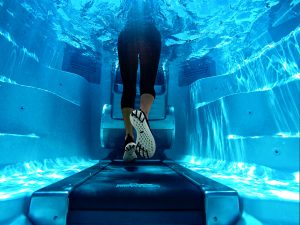 1. Versatility – Having an endless pool fitness system allows you to be able to use the unit all year. The portable unit has a heater, swim machine, seated jetted areas and different attachments for performing various exercises. With an EP you can swim, run, walk, stretch, weight train with zero impact and simple recovery. Swimming in an EP is most like swimming in open water, as you don't have to slow down and turn.
With an in-ground pool you can swim but always must allow for flip turns (and most back yard pools are not Olympic sized pools) every 17 to 20-foot, giving you about 4 strokes before you must flip and head back.
Besides swimming and cooling off an in-ground pool is strictly for enjoyment with the family and that enjoyment only last about 3 months out of the year.
The resources for an EP are so easily accessible just by doing a search on google you can come up with about 56 different routines and videos to watch and plan your different workouts. If you google in-ground pool workout routine, you will be able to find some, but they are not as versatile and very rudimentary plain work outs.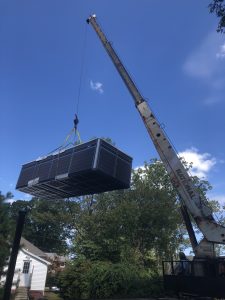 2. Installation – We are going to look at the installation process for both the Endless Pool and the In-ground Pool.
The EP fitness system are extremely easy to install because most of the work is all prep. The unit itself is completely self-contained and come together as one full unit. The requirements for a fitness system are simple you must have a 6-inch concrete slab poured in the location you want to unit. You must have a 60-amp electrical breaker inside of your house which is run to a split 30/30 GFCI subpanel outside and then hard wired into the fitness system. Once that is done the deliveries of the pool usually require a crane and about four skilled installers to place the unit in its place. Then take your garden hose to fill it, flip your breakers and balance your chemistry – you are ready to swim in just a few hours.
For an in-ground pool you must first pick out the design and dimensions of your fiberglass pool (we will not be touching on gunite pools in this blog) once that is done you must have your back yard prepared. This involves excavation and prep work large equipment and backhoes for the landscape design. This process depending on the extent of the job could take months. Then the pluming and electric are run, then you fill the pool with several thousand gallons of water (some municipalities require you to truck in that volume of water.) It could be quite a while from start to finish before you can enjoy your pool.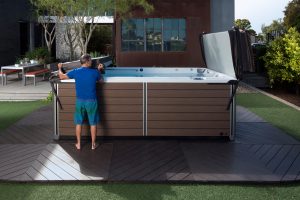 3. Costs – The last comparison we are going to make is the costs to operate the pools. We use far less water to fill an EP than a regular in-ground pool and only requires a half dump and refill once a year. The amount of chemicals needed are far less in an EP – there is less water to sanitize and there is an ozone system to keep your water clean with less chemicals. The EP can be used year-round and have triple layer insulation systems to keep energy costs low. Also, an EP has a locking cover (with a high R Rating) that keeps your pool energy efficient. In a regular in-ground pools we find the cost per month of running the pool is extremely high because of the volume of water and it is difficult to maintain temperature even with a solar cover. If we keep an in-ground pool open for one or two months after the summer season, the cost to keep the pool heated is very high.  The EP, you set the temperature you desire, and it circulates like an aquarium, so it is always keeping the water at the temperature all the time. It can be set as low and 70 and as high as 99 degrees.
We are not trying to tell you what you need in your back yard, we are simply here to open your heart and mind to different options. We have found that in the past couple years, people are starting to realize how amazing the Endless Pools Fitness Systems are and how versatile they are. No matter what you choose enjoying time with the family, getting an amazing work out and staying well is the objective. Enjoy and happy swimming.
References: https://www.endlesspools.com/inground-pools.php
Author: Shawn Hannon, Hot Tubs by HotSpring
---
We have all 3 lines filled and ready to test swim right here in our showroom. Stop in and try all the accessories and build your ultimate Endless Pools Fitness System. Let us help you make your backyard a place for fun & fitness!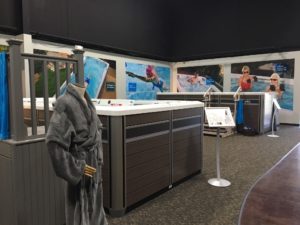 ---
What are the Benefits of Aquatic Fitness?
● Low risk of injury ●Whole body conditioning ● Low-impact exercise ● Improve blood pressure  ● Reduce stress ● Burn calories ● Natural resistance of water ● Increase range of motion  ● Various exercise options ● Shorter recovery time ● just to name a few…