Do I need a cover lifter?
When making the investment of a new hot tub for your backyard, we suggest that you add a cover lifter to your purchase.  
Often, first time buyers don't realize how much better their hot tubbing experience will be, or they do not think they "need" one. We believe a quality cover lifter will make daily use so much easier and will save you money over time. 
When you are looking at the various options, you have to take into consideration your location and how much space you have available. We sell 3 different cover lifters that are designed to work with HotSpring hot tub covers – our covers have metal plates that the lifter is installed into on the side of the cover, so no unsightly bar across the cover when it is closed (also, the bar can cause wear and tear on the center of the cover over time.) Each of these 3 has benefits for function and style.  
Let's start with our Cover Cradle. This is the easiest one to open, as it has pneumatic gas springs on the lifter to assist you in gliding the cover back behind the tub and lifting it back up to close it. You do need a bit more space available behind the tub (24″) to accommodate the cover sitting behind the tub on an angle. When the cover is open, you will only see about a ¼ of the cover, as it sits down closer to the ground.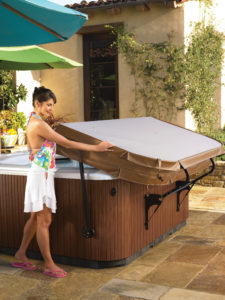 Next is the Lift 'N Glide – with this lifter, you simply lift your cover up, slide it back and flip it open. It sits straight up –standing up on the back of your tub. The great thing about this, you only need about 14″ behind your tub for this cover and it provides an added privacy screen for you while you are in the tub (in case you have neigbors who like to look over the fence).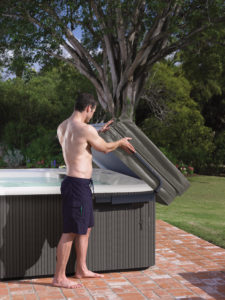 Our next option is the UpRite lifter. This is great if you have limited space behind your tub. With this option, you only need 7″ behind your tub, so it's ideal for tight spaces. This stands straight up on the back edge of the tub and is a great privacy screen.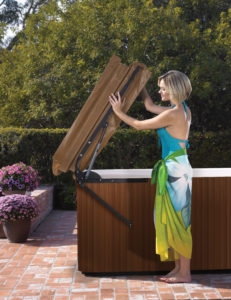 A hot tub cover has a limited life span. The heat of the sun, the pelting ice and dust can damage your vinyl cover and it will become heavy over time. Add to that damage that may occur when you are dropping your cover to the ground each time you go to use it – you will be inflicting damage to the cover each time it is opened. Therefore, your cover will need to be replaced more frequently – and cost you more over time. 
So, if you're looking for advice, our recommendation is to invest in a good lifter. You will enjoy your hot tub more and you will use your hot tub more – therefore, it is a great investment with your hot tub.