Living Well – Year Round Swimming in Your Backyard
Vol. 9, Wed., Oct. 9, 2019
Bringing you the latest happenings in the aquatic fitness world, tips & tricks, and the best ways to live well!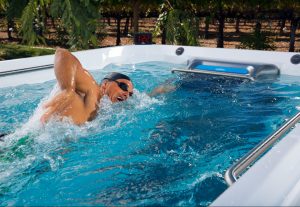 Swimming is one of the best ways to stay fit and is an activity you can continue for a lifetime. Low impact, high resistance exercise in water is a great way to reap the benefits from your workout without the risk of injury or pain.
With a traditional swimming pool, the average time that you can use your outdoor pool is about 3 months. That leaves 9 months without a pool. With an Endless Pools Fitness System, you are able to swim & workout year-round in your outdoor swimming pool. All Endless Pools Fitness Systems are heated for those cold winter months (and you can heat up to 99 degrees if you want to just soak in hot water for the winter).
Recreational Swimming
Why should you choose to swim? Swimming is a low impact, relaxing way to burn some calories.
Some common strokes to try are:
Breaststroke

Backstroke

Side stroke

Freestyle
Consistency is important when you are training – if you take off 9 months, your fitness level may slip, and you may have to work harder to get back to where you left off.
Also, swimming year-round can help you stay healthier. Getting a whole-body workout, getting your blood pumping, being in fresh air – is the perfect solution to the escape the stale air in the house (or gym for that matter) and a change of scenery in the dull winter months.
"Swimming is a total mind and body experience. It is exercise and it is recreational. It can be simple, relaxed strokes and intensive and rigorous training. But whatever the level, it takes time to master the movements, the kicks, the rhythm and the breathing techniques to be a safe swimmer. With year-round swimming lessons, avid students can quickly become proficient swimmers and casual students can take advantage of less chaos in which to master their skills. Regardless of the type student, it takes more time develop these skills than just a summer." Swimming All Year Long
"If you've been looking for a new and refreshing way to get or stay in shape, or if you're tired of sore feet and aching joints, water exercise may be for you. Because it's low impact and can easily be tailored to match your abilities, everyone from athletes to seniors can benefit from water exercise." Hate the Gym? Work Out in Water
Limit stress on your body while working out

Increase your heart rate

Build endurance & strength

Tone muscles

Great cardio and an all body workout without needing additional equipment

Improve your balance and posture


Improve flexibility and have a relaxing place to cool down after your workout.
Backyard Pools
Bring your workout home to the privacy of your backyard. No waiting for an empty lane to jump in, no traffic, no time wasted driving across town to get to the gym. Spending more time at home allows you to spend more time with your family and any time spent in the pool is unplugged – no phones, no tablets, just talking about your day with the ones you love. 1
Accessories
Endless Pools Fitness Systems have a variety of accessories to improve your workout experience. Underwater treadmill, swimming mirror, swim tether, resistance bands, underwater bike and more.
You could have a different workout for every day of the week.
---
---
We have all 3 lines filled and ready to test swim right here in our showroom. Stop in and try all the accessories and build your ultimate Endless Pools Fitness System. Let us help you make your backyard a place for fun & fitness!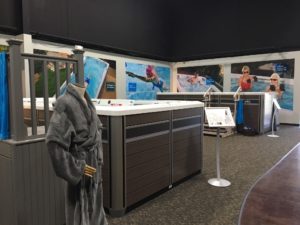 ---
What are the Benefits of Aquatic Fitness?
● Low risk of injury ●Whole body conditioning ● Low-impact exercise ● Improve blood pressure  ● Reduce stress ● Burn calories ● Natural resistance of water ● Increase range of motion  ● Various exercise options ● Shorter recovery time ● just to name a few…
---
Author: Erin Kelly
Hot Tubs by HotSpring