Living Well – The New Age is Upon Us!
Vol. 12, Wed., February 5, 2020
Bringing you the latest happenings in the aquatic fitness world, tips & tricks, and the best ways to live well!
Why working out in water is becoming the Health Craze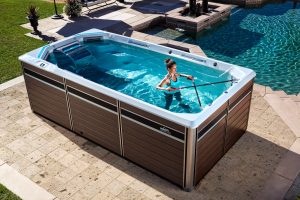 The year is now 2020, and gyms are becoming less popular than they once were. People are now finding different ways to stay in shape and become healthier. Over the last 10 years the boom of CrossFit, XPT Training with Laird Hamilton, Peloton, The Mirror, and so many more have taken the world by storm to getting fit. The best option for getting a great work out with minimal injuries is working out in H2O.  In this blog, we will investigate some of the ways working out in water is far superior to your rudimentary ideals of land base training.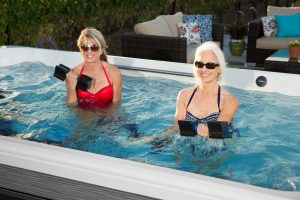 After reading a book by Samir Becic called "Resync Your Life" there are 10 distinct advantages of working out with water resistance. They are; building muscle strength, building endurance, increasing flexibility, low impact exercise, alleviate pressure on joints, relieving stress & anxiety, burning calories, reducing blood pressure, cooling exercise, and popular activity for age groups. Through out the rest of this blog, we will go in depth about some of these advantages.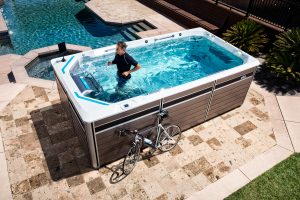 When working out in water, we must always understand the concept of forever moving and flowing. Water does not stand still it is for ever changing and moving, and water is unpredictable making it more challenging. Water can have 4 to 42 times greater resistance than land-based training, causing your muscles to work harder, but not causing more stress or injury. In fact, a study conducted in 2007 found that after 12 weeks of regular aquatic aerobic exercise, participants had made significant gains in strength, flexibility, and agility[1]
Working out in water is a great way to increase flexibility and build endurance, unlike the typical way of weightlifting against just gravity. Traditional weightlifting is strictly pushing or pulling weights against gravity. When you incorporate water into the working out scenario it becomes a much more natural movement. This allows the body to strain through the water rather than against gravity building endurance quicker. A study in the year 2013 with a group of elderly adults shows while working out with water resistance requires movements in various direction while adjusting to push and pull of the water[2]. This naturally increases the range of motion and joints flexibility in the body.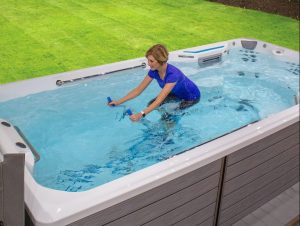 The most important aspect of working out in water is the low impact exercise on the body. Most athletes and regular working out citizens do not realize how taxing regular training is on the body. Constant pressure, pounding and twisting on the body causes future ailments and damage to occur. While working out in water we are not subject to gravity, meaning our bodies do not receive punishment on our joints and muscles. It is much easier, can be done longer, can be done more frequently and promotes growth. It does not deter us from wanting to work out more.
Over many years, studies have been performed showing that watching bodies of water is one of the most soothing and stress reliving acts you can perform. The idea of watching water while exercising in water can help lower your stress while you work out. As you work out in water, your body is not under tremendous amounts of stress, so the act of exercising in water can reduce stress and anxiety.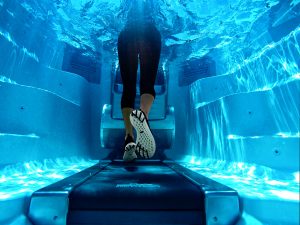 Water does not just reduce stress and anxiety it also reduces blood pleasure. While working out in water your body will start to have better blood flow. Over time this decreases your resting heart rate this ultimately means your body is maintaining productivity with less stress on your body.
As the summer months begin to creep up, the temperature outside rises your body and your mind does not want to exercise as much in that climate. Water exercise has begun to become so much more popular and easier to do then working out in the climates we live in. Water aerobics can fill the need to work out, but also feel cooler with less stress and less strain on the body. Working out in water and utilizing things such as Endless Pools Fitness Systems has become a huge craze going into 2020. You can be a beginner or a veteran fitness guru and can find ways to satisfy, change up, and enjoy every aspect of water[3].
[1] https://www.healthfitnessrevolution.com/top-10-health-benefits-water-aerobics/
[2] https://www.healthfitnessrevolution.com/top-10-health-benefits-water-aerobics/
[3] https://www.healthfitnessrevolution.com/top-10-health-benefits-water-aerobics/
Author: Shawn Hannon, Hot Tubs by HotSpring
---
We have 2 lines filled and ready to test swim right here in our showroom. Stop in and try all the accessories and build your ultimate Endless Pools Fitness System. Let us help you make your backyard a place for fun & fitness!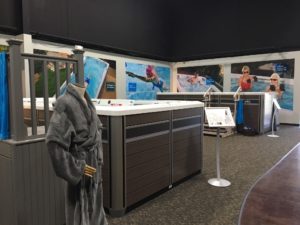 ---
What are the Benefits of Aquatic Fitness?
● Low risk of injury ●Whole body conditioning ● Low-impact exercise ● Improve blood pressure  ● Reduce stress ● Burn calories ● Natural resistance of water ● Increase range of motion  ● Various exercise options ● Shorter recovery time ● just to name a few…