Living Well – Endless Pools Fitness System in your backyard
Vol. 4, Wed., May 1, 2019
Bringing you the latest happenings in the aquatic fitness world, tips & tricks, and the best ways to live well!
What are your fitness goals?

Make health my priority
Run, swim and walk more often
Spend quality time with loved ones
Take time to reconnect with myself
Live everyday better
Those are some big goals and may seem insurmountable at times. We believe that an Endless Pools Fitness System can make these goals not only achievable, but fun at the same time.
Endless Pools has 3 lines of fitness systems, each one meeting different needs regarding use, budget, & size. Exercise grab bars, cleats for row kits or resistance bands, and the swim tether anchor are all standard in an Endless Pools Fitness System which allow for an expanded exercise experience.
---
Looking to have some backyard fun year round & maybe start exercising a little more?
The RecSport Recreation System may be the perfect line for you. This line offers a jetted option with wide open space to play, exercise or relax. At Endless Pools, we like to say, "Fitness isn't always physical" and the RecSport gives you the space to play, exercise or relax at an affordable price. We have 12' or 15' options all with air-free jets!
---
Maybe you're looking to start swimming more or you're looking to have more room to play in your backyard year round.

The SwimCross Exercise Systems stand above the RecSport with 5 air-free jets, giving you a less turbulence and stronger resistance. The SwimCross has 5 output levels, so it can match your swimming level from beginner to expert. The SwimCross is available as a 12', 15' or 20' dual zone with a hot tub at one end and a 15' swim unit on the other.
---
If you're looking for daily low-impact exercise options at home or train year round for athletic events. The E-Series is a perfect fit for you!
The E-Series Fitness System combines the revolutionary hydraulically powered Endless Pools Swim Machine with an optional treadmill to give your home a wellness system that is not only a beautiful addition to your backyard, but also provides you with the convenience of having a gym at your back door. The Swim Machine has a laminar swim current that moves 5,000 gallons per minute and is wider than your body and deeper than your stroke. You will actually feel like you are swimming in open water. The E-Series is available 15′, 17′ and 20′ dual zone with a hot tub at one end and a 15′ swim unit on the other.
---
Don't forget about our fun & functional accessories to make your goals even easier to grasp:
Underwater Treadmill (E Series only) – run or walk with no impact
Aqua Bike – enjoy your own spin class – outside. The water & swim current will add different levels of resistance to make your ride either relaxing or intense!
Bluetooth Music System – Make your workout and playtime fun
Row Bar/Resistance Bands Kit – easily attached to the built-in anchors or handrails for a low-impact, full body workout to increase your heart rate and core strength
Swim Tether – all systems are equipped with an anchor for the swim tether – great for beginner swimmers
Underwater Mirror – watching yourself can improve your form and makes swimming more fun
Fit@Home WiFi App – set up your workout, monitor your pace and keep track of your workouts to challenge yourself – all from your mobile device


---
We have all 3 lines filled and ready to test swim right here in our showroom. Stop in and try all the accessories and build your ultimate Endless Pools Fitness System. Let us help you make your backyard a place for fun & fitness!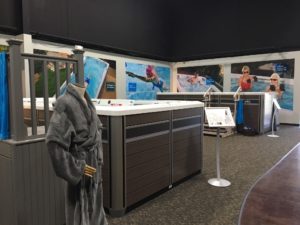 ---
What are the Benefits of Aquatic Fitness?
● Low risk of injury ●Whole body conditioning ● Low-impact exercise ● Improve blood pressure  ● Reduce stress ● Burn calories ● Natural resistance of water ● Increase range of motion  ● Various exercise options ● Shorter recovery time ● just to name a few…
---
Explore all that Endless Pools can do for you.
---