Hot Tub Talk – 'Tis the Season to be a Hot Tubber!
Vol 8. Wed., September 4, 2019
Bringing you the latest happenings in the hot tub world, tips & tricks, and the hottest news, up to 104 degrees!
Author: Marika Wehrle
The final days of summer are approaching rapidly & we couldn't be more excited. The cooler nights are beginning, kids are lining up for the bus in the morning, and we're sneaking away to our hot tubs for a moment of relaxation and warmth!
Hot Tubbing Season
has officially begun & we thought it was the perfect time to talk a bit about soaking in the cooler fall and winter days & nights.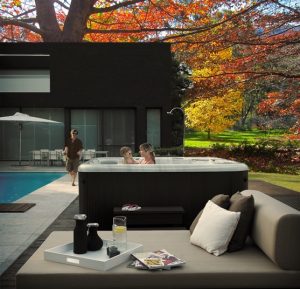 For many hot tubbers, the summer season is about entertaining & even using the hot tub as a cold tub. As we shift seasons, fall is more about cozying up with friends and family, thawing those cold bones, and finding relaxation during the stress of the holidays.
Wake in the early darker mornings, brew up your cup of coffee, and slip into your warm Salt Water hot tub. Morning hot tubbing can help you relax and prepare for the day with a clear open mind. It can also help that caffeine work faster by increasing your blood flow!

When the kids come home from school in the afternoon, hop in together and watch the leaves change while you talk about their day and ask the famous question "So, what did you learn today?" and cross your fingers.
When the rest of the world is bundled under blankets watching TV, throw on a robe & walk out to your late night getaway to warm up. Hot tubbing at night can actually help you sleep deeper. Your body will rise in temperature when soaking and then drop when your finished. This tends to make you feel more tired and helps you fall asleep faster & have quality rest at night. With the Salt System, there's no need to shower after hot tubbing to get the chemical smell off of your skin – no added chemicals, softer skin, and absolute best hot tubbing experience. So, skip the TV – we all know the studies showing that late night TV can actually interrupt your sleep. You'll be so tired, you won't bother looking for the remote.
If you don't yet own a hot tub and you're wondering what it's like – bring your bathing suit and test out our Aria hot tub in our private test soaking room.
---
Check out the videos below to see how HotSpring Spas are changing lives around the country & even here in New Jersey.
---
SHARE YOUR STORY!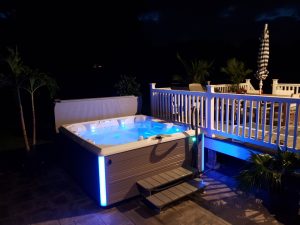 Is your spa being used religiously every day? What do you use it for? Meditation? Relaxation therapy? Joint aches?
Please share your experience with us! Send us a picture of you & your family! Help us to encourage others of the benefits of hot tubbing! Send your story to sales@hottubsbyhotspring.com