Who do I call to get my hot tub repaired?
A good hot tub should last you years and years. However, you do have to maintain it, just like you would a car. You can't keep driving your car if you don't put air in the tires or check the oil, right?
Well, the same is true with your hot tub. There is some basic maintenance that you have to do on a regular basis: check your water chemistry weekly or before each use – balance as needed, clean the filters weekly or bi-weekly, shock your water weekly, add MPS after each use, change your silver ion cartridge every 4 months, dump and refill your tub 3-4x per year, etc. After a time, you will get to know your tub and your tub will get used to you and your bathing load, so it becomes routine.
Once in a while, something may go wrong. Your tub stops heating, the breakers are tripping, it may be leaking.
Who do you call then? You should call a hot tub expert.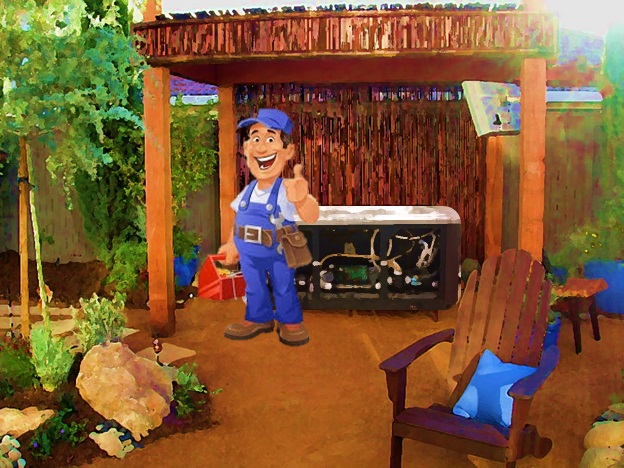 Often, a homeowner will try to repair their own hot tub. Be sure you have an understanding of how a hot tub works – you could be causing more damage than good. Also, remember, you are dealing with water and electricity. You need to be knowledgeable in plumbing and electrical.
Also remember there is no "generic" hot tub, so if you just google a local hot tub repair company, you may not get an expert with your brand. Often we have been called for service calls and inferior parts have been installed, the motor compartment has been unnecessarily re-plumbed, and other damage have been done to the tub – often, what could have been a simple service call, can turn into a major repair. Always make sure you are dealing with an expert.
When you buy from a reputable brand, they should be buying more than just a hot tub, but a team of experts to help you find out what is wrong. We will trouble shoot with you on the phone to see if it is a maintenance issue that you can fix yourself, and if we cannot help you on the phone, we will send someone out to repair your tub.
HotSpring dealers have factory certified technicians who are trained to work on HotSpring tubs to diagnose and fix your hot tub in the most cost effective and efficient way. All parts are replaced with our manufacturer's parts, no aftermarket parts. Plus they come with a 1 year warranty when we replace anything for you.
Additionally, if we see that the repairs are more than the value of your tub, we will work with you to trade-in your current HotSpring. Your used hot tub may not have value, but you as a customer does – and we want to keep you in a HotSpring. So, if you are on the fence about getting repairs, remember your trade-in value + a new warranty = less headache.
We want happy hot tubbers.