Why are Hot Tubbers Always so Relaxed?
Vol 5. Wed., June 5, 2019
Bringing you the latest happenings in the hot tub world, tips & tricks, and the hottest news, up to 104 degrees!
It's not all physical

This month we discuss the mental benefits of hot tubbing. So many of us are aware of the physical benefits of hot tubbing that the mental benefits are sometimes living in the shadows. Today, we're going to shed some light on the reasons why hot tubbing can really help everyone take a deep breath and relax even on the most stressful days.
Wake up, eat, work, care for loved ones, sleep, and do it all over again.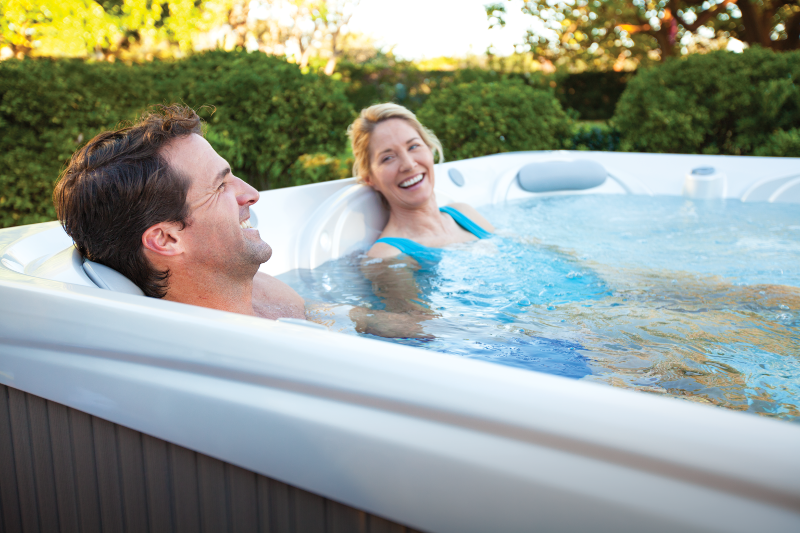 Maybe this routine, or a similar version, sounds familiar. We've all heard of the recent trending topics of mental health awareness, spending more time disconnecting from the hustle & bustle and reconnecting with ourselves. Some of us have grasped onto this concept and some of us are still struggling with finding that perfect "escape." According to Jeff Hayden, author of "10 scientifically proven ways to be incredibly happy" on Inc.com – today, more than ever, we're finding that spending quality time reconnecting with yourself and those you care about is incredibly important for our quality of life & happiness.
Reduce Stress & Anxiety



Adding hot tubbing to your daily routine can help your quality of life
If you can honestly say you have no stress in your life, you are one of the lucky ones! In a busy world where we hold so many responsibilities and must prioritize these responsibilities, we often put ourselves somewhere towards the bottom of the list. The "noise", or the various responsibilities, swirling around us can lead to us feeling anxious, stressed out, and sometimes even defeated. A little stress can sometimes be helpful in completing tasks, however, most of us have experienced the uneasiness of too much stress.
Below is a breakdown from Mental Health America (MHA) on how stress effects the body.
Stress Effects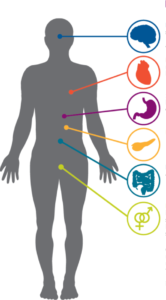 Brain & Nerves: Headaches, feelings of despair, lack of energy, sadness, nervousness, anger, irritability, trouble concentrating, memory problems, difficulty sleeping, mental health disorders.
Heart: Faster heartbeat or palpitations, rise in blood pressure, increased risk of high cholesterol and heart attack
Stomach: Nausea, stomach ache, heartburn, weight gain, increased or decreased appetite
Pancreas: Increased risk of diabetes
Intestines: Diarrhea, constipation and other digestive problems
Reproductive Organs: For women – irregular or painful periods, reduced sexual desire. For men – impotence, low sperm production, reduced sexual desire.
Other: Acne & other skin problems, muscle aches and tension, increased risk for low bone density and weakened immune system.
How hot tubbing is a healthy way to cope with stress
One recommendation from MHA for managing stress is to take "ten to twenty minutes of quiet reflection". Having a hot tub in your backyard creates your own personal escape from all the distractions in your life, just steps away. Take 15-20 minutes in the morning, night, or both to walk outside and submerge yourself in warm water to help you relax instantly. Kick on the jets to drown out the racing thoughts in your mind & spend some time to connect with yourself.
Fun Fact: Hot tubbing at night may help you sleep deeper throughout the night, according to an article on HotSpring.com. Hot tubbing can help reduce insomnia and naturally ease your body into sleep. Getting a good nights sleep can help you tackle the next day's responsibilities with a clear mind.
Our goal here at Hot Tubs by HotSpring is to help you find your escape, your place to reconnect, your ultimate healer, or your place to just have fun with a hot tub in your backyard.
---
Resources
https://www.hotspring.com/blog/how-a-daily-hot-tub-soak-can-help-improve-physical-wellness
https://www.mentalhealthamerica.net/conditions/stress-coping-everyday-problems
https://www.inc.com/jeff-haden/10-scientifically-proven-ways-to-be-incredibly-happy-wed.html
---
SHARE YOUR STORY!
Is your spa being used religiously every day? What do you use it for? Meditation? Relaxation therapy? Joint aches?
Please share your experience with us! Send us a picture of you & your family! Help us to encourage others of the benefits of hot tubbing! Send your story to sales@hottubsbyhotspring.com