Living Well – Pool Safety
Vol. 10, Wed., Nov. 7, 2019
Bringing you the latest happenings in the aquatic fitness world, tips & tricks, and the best ways to live well!
When thinking of a Endless Pool what comes to mind first? Child Safety and Family Safety!!!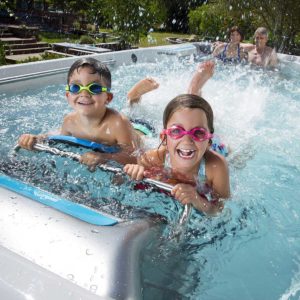 An adult should actively watch children at all times while they are in a pool. With infants and toddlers, an adult should be in the water and within arm's reach, providing complete supervision.
When it comes to older children, an adult should be paying constant attention and free from distractions, like talking on the phone, socializing, tending household chores, or drinking alcohol.
With an Endless Pools Fitness System in your backyard, child safety and family safety is much easier to obtain than an in ground 20 ft pool. The Endless Pools Fitness Systems are designed to make family fun in the pool a breeze. The pools sit 50 – 58 inches tall and at the deepest end of the pool the depth is four feet. With the addition of cool down jetted seats and grab rails in the pool, teaching a child how to swim and watching your children and family is much simpler.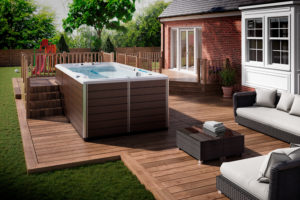 Sadly, the possibility of pool injuries and fatalities is very real. Drowning is the leading cause of unintentional death for young children aged one to four. In 2018, between Memorial Day and Labor Day, at least 148 children under 15 years old fatally drowned in swimming pools or spas. For every death, twice as many children are hospitalized for injuries. 4-6 minutes underwater is enough to cause irreversible brain damage.
An article written in 2018 released five basic safety features to ensure your pool is safe.
Set up pool and spa barriers
Secure any gates and doors
Inspect and pool drains, and the drain covers
Maintain to pool and Chemicals
Enforce pools safety rules and skills
Endless Pools Fitness System Safety Cover
The Endless Pools Fitness System have a locking cover that meets the ASTM F1346-91 Standard for Safety Covers and as a result are often exempt from most barrier restrictions.  The safety locking cover clips into 12-15 different point around the pool that lock for safety.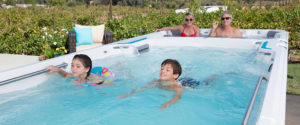 Pool Safety
In terms of securing an gates and doors the Endless Pools system is a fully self-contained unit all pumps and components are inside the motorbox of the unit and secured by a door that is screwed into place. The mandatory locking cover eliminates any ideas of needed gates put in place to keep children out. The only reason for gates or railing is if a contractor is building a deck around the pool.
There is little risk for suction injuries. All Endless Pools systems have either 2 or four filters each located towards the cool down seats. These filters are protected by a slatted weir door and are locked into position. All bypass and drainage areas are covered by a perforated plastic cover, so nothing can be pulled or sucked into them

Maintaining the swim spa is super simple and easy.

With each pool, the factory installs an ozone system that work with the filtration system and the minimal amount of chemicals added to keep the pool perfectly clean. Basic maintenance: take out the filters every week or so and rinse and replace; test the water every week to make sure PH, Alkalinity and a chlorine level is present and adjust as necessary.

Safety rules will be required no matter what type of pool you have.

However, with your locking safety cover, rest assure no one will be using the pool without supervision, as you need a key to unlock the cover.
1 https://www.safety.com/pool-safety-tips/
Author: Shawn Hannon, Hot Tubs by HotSpring
---
We have all 3 lines filled and ready to test swim right here in our showroom. Stop in and try all the accessories and build your ultimate Endless Pools Fitness System. Let us help you make your backyard a place for fun & fitness!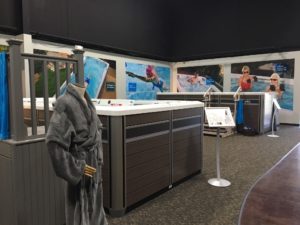 ---
What are the Benefits of Aquatic Fitness?
● Low risk of injury ●Whole body conditioning ● Low-impact exercise ● Improve blood pressure  ● Reduce stress ● Burn calories ● Natural resistance of water ● Increase range of motion  ● Various exercise options ● Shorter recovery time ● just to name a few…
---
Author: Erin Kelly
Hot Tubs by HotSpring